Fleet Brake Services
At Tom's Alignment Center, Inc., we want our Bozeman customers to have the opportunity to feel comfortable in their vehicle. You can leave the repairs and services to our professionals, but please don't hesitate to ask us questions about why a service is needed or how it occurred. Give us a call at 406-587-1011, and we will be happy to speak with you.
Brake Maintenance & Repair
Truck brakes are much more powerful than car brakes. Faulty truck brakes put the truck driver, the load, and other road users at risk. If you are not confident in your truck's ability to stop firm and straight when you hit the brakes, then it is time to have them checked and replaced if necessary. At Tom's Alignment Center, Inc., we will diagnose your truck and fleet's brake problems and offer high quality brake work. Visit our auto shop or call us today 406-587-1011.
Hydraulic Brakes
A hydraulic brake is a type of braking system that uses brake fluid to transfer pressure to the brake pads. Although most heavy trucks use air brakes, some trucks have hydraulic brakes. A hydraulic brake consists of the following: a brake pedal, a push rod, a cylinder chamber, and brake pads. With time, the hydraulic brakes components wear out and thus need replacement. For all your hydraulic brake system needs, visit Tom's Alignment Center, Inc. or call us at 406-587-1011. We boast the most experienced hydraulic brake experts in the region.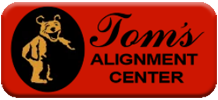 Never Disappoint
Car & Truck Care
, near
Bozeman, MT
TJ and his crew are the best in town! Locally owned and operated for decades, offering great rates and excellent work. Never been disappointed with them. Do yourself (and your vehicle) a favor by letting Tom's Alignment take care of your needs.
Wayne M
join our team
We are currently on the lookout for the following: